Why the prostate massage is so popular in the capital? A Wonderful Tantric massage with an emphasis on your prostate. The session includes a tender exploration of the Anal Rose (Anus), focusing on an internal awakening of the Male G spot: the Prostate gland.
Receiving a Healing Anal massage will help to peeling away these layers of conditioning. Let our sexy masseuses initiate you into the Pleasures of your Prostate today!
What is London Prostate massage about?
A prostate massage is an erotic practise involves the massaging or stimulation of the male prostate gland for sexual stimulation and relaxation. This massage is also used for medical reasons. A prostate massage is also sometimes referred to as a Happy Ending.
Prostate massage is a form of tantric massage; an erotic sensual massage to stimulate the body.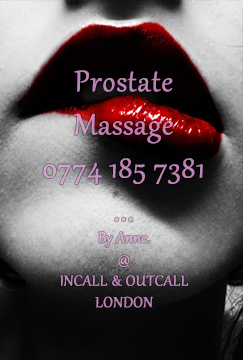 Prostate massage is performed by applying gentle pressure on the gland and rubbing forth and back with the pad of the fingers. The prostate gland is the G-spot of a man. This will stimulate the sex drive and cause great arousal and pleasure. This can even result in an amazing ejaculation. Ejaculation is not the end goal for the masseuse, the aim is to take you on a new sexual high, and ejaculation can be just one of the great pleasures experienced during the massage.
There are many health perks that numerous men can benefit from. Prostate massage can increase the sex drive and improve potency which will certainly increase the performance in the bedroom. This is also a great stress reliever and for any sexual tension or muscle tension. The health benefits of the massage are important to many men prone to prostate related illnesses as it will reduce the risk.
Prostate massage is pleasurable
The massage is extremely pleasurable and provides men with a new sensation if never experienced before. The massage will release lots of emotional and physical stress, at the same time the receiver will indulge in enjoyment and relaxation.
In Tantra, we view the Lingam as the male's positive pole of sexuality & the Anal Rose & Prostate as his negative pole, with the perineum as the bridge between the poles. As conscious sexual beings, we believe in exploring & honouring both poles!
However, due to social & religious conditioning, sometimes feelings of shame or guilt are associated with anal sexuality, somatically this can result in tension in the anus.
If you are looking for the ultimate bliss, just try the prostate massage session, you will never forget.
For your health, we use glove in the session.
Book A Prostate massage with Anne
A Private Escape to Sensuous Luxury…
Mobile:  0774 185 7381
Opening time:  10am-3am
Incall / Outcall
Central LONDON, UK.