<the Asian masseuse>
"With subtle lights and sensuous fragrance, she infuses the room with seductive mystique, leaving you for an instant of dazzled suspense before revealing herself once more, a resplendent apparition of regal bearing and dreamlike serenity… An inspired vision of supreme delight."
Anne's London Asian Massage – A Cut Above Perfect.
An exquisite balance of inherent gifts and exceptional professionalism, each Asian Masseuse represents the felicitous outcome of a stringent selection that retains only the most abundantly blessed with joie de vivre, charisma and outstanding physical shape, to undergo a comprehensive training process exclusively developed by Asian Massage to foster her natural endowments and to confer impeccable proficiency in the art of creating your extraordinary sensory experience.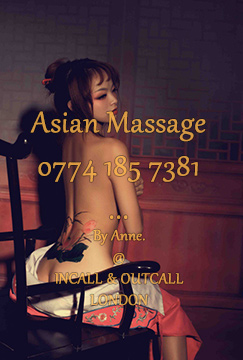 Consistently the picture of elegance and grace, she inevitably becomes your choicest pleasure, a dreamlike companion to your perfect relaxation, with the enchanted arts of sensual abandon at her effortless command.
Defining Asian Massage.
<Call Asian Massage in London>
A Sublime Rapport…
A confident and attentive assistant awaits your call, greeting you with exquisite deference and charming voice, to mark your initiation into the joys of Asian Massage.
Always at your disposal to guide your selection among the delectable Asian Masseuses and the latest creations in the Anne's Asian Massage Collection, she playfully heightens your anticipation of delights to come with stirring hints and lavish descriptions, all the while attending thoroughly to your questions and preferences.
Gracious and reliable, she anticipates your questions with tact and finesse, always ensuring that your Asian Sensual Massage Experience in London is perfect in every way.
Unravel Your Experience….
BOOK AN ASIAN MASSAGE SESSION WITH ANNE
Mobile:  0774 185 7381
Opening time:  10am-3am
Incall / Outcall
Central LONDON, UK.
For a better experience, Anne recommend you a warm shower, a clean, quiet and comfortable room, preferably darkened during daylight hours.
Your Sexy Masseuse will tend to the rest and lead you to an ultimate erotic pleasure.